October 19th, 7:00 p.m., at St. Mark's Anglican Church (Third & Easy Sts, Midland): Transition Town Huronia presents
Dirt!
(
http://www.thedirtmovie.org
/), Earth's most valuable and underappreciated source of fertility–from its miraculous beginning to its crippling degradation. Narrated by Jamie Lee Curtis.
October 20th, 1:00 p.m., at the Midland Public Library:
S.H.A.R.E.
presents
What's On Your Plate?
, (
http://www.whatsonyourplateproject.org
/) a witty and provocative documentary about kids and food politics.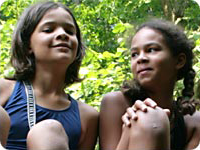 The film follows two 11-year-old kids as they explore their place in the food chain.
October 20th, doors open at 6:00 p.m., film at 7:00 p.m., at Chigamik (845 King St, Midland):
Midland Community Gardens
presents
Fresh!
, (
http://www.freshthemovie.com
/) which celebrates the farmers, thinkers and business people who are re-inventing our food system. Forging healthier, sustainable alternatives, they offer a practical vision for a future of our food and our planet.
October 21st, 3:00 p.m., at the Eco-Space (76 Main St, Penetanguishene):
Karma Marketplace
presents
The Garden
, (
http://www.thegardenmovie.com
/) about urban community gardens totalling nearly 14 acres in south central Los Angeles.
Admission by donation, with a suggested amount of $5.00 per film.
Each website has fabulous links; here are some more, local to north Simcoe: